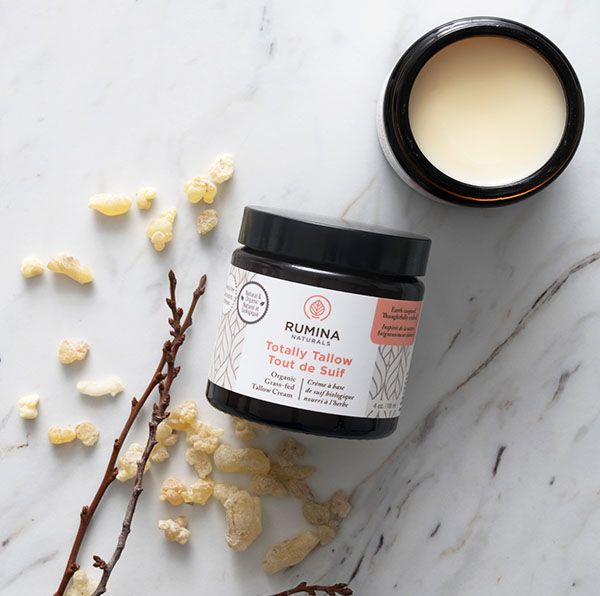 Totally Tallow Organic Skin Cream
Save

Liquid error (snippets/product-badge line 32): Computation results in '-Infinity'

%
Totally Tallow
Ideal for use during pregnancy to soothe an itchy, growing belly and a top choice for stretch mark prevention.

4 oz./118 ml Cream. 
WHY IT'S AWESOME

Everything you need to know about this product.

The ultimate in natural skincare for your life-giving body - from head to toe!


Ideal for use during pregnancy to soothe an itchy, growing belly and a top choice for stretch mark prevention. No synthetic chemicals, parabens or fragrances commonly found in most skin creams. Safe for use during breastfeeding and ideal for your precious newborn's delicate skin. Made with organic, grass-fed beef tallow.


Head to toe sensitive skin cream. (It's so effective, you may have to share!)


Safe for pregnant and nursing moms and newborns
Ideally suited to help reduce stretch marks
Easily absorbed
Relieves discomfort of irritated skin due to rashes and inflammation
Protects and dramatically moisturizes skin

PRO TIP: A natural eczema treatment too.

INGREDIENTS

See a complete list on everything in our products.

Grass-fed Beef Tallow, Coconut Oil (Cocoa nucifera)*, Beeswax (Cera alba)*, Vitamin E (Natural source), Lavender Essential Oil (Lavandula angustifolia)*, Frankincense Essential Oil (Boswelia carterii)*, Sandalwood Essential Oil (Santalum album)*

*Organic ingredient.
Pure Nourishment
I absolutely love the tallow. I am using it on any cut or scratch my son gets, my husbands eczema and on my body while pregnant.
It truly is food for your skin, from head to toe! It's a family fav for sure! So glad you love it....
Amazing product!
Super love its hydrating properties! This is now my new facial moisturizer!
It's awesome from head to toe! So happy to love it...and thanks for taking the time to share your experience. It means a lot to us!!! xx, Rumina
Amazing!
I love this product for extremely dry skin. It also has an amazing ability to heal sores. My daughter scratches so much sometimes she can get a festering sore. This product clears it up! Thank you!
We are so happy you love our Totally Tallow for the family! Thanks for taking the time to leave a review, Carly! xx, Rumina
Natural Anti Aging Cream
I love this product! Being of a mature age and wanting to ensure I use only natural skin care products, I decided to try Totally Tallow after some research and discovering how good tallow is for the skin. I use a small amount as my daily face moisturizer. It goes on a bit creamy on initial application but my skin absorbs it quickly. I love how it keeps my skin soft, supple and blemish free. The added bonus is it has helped slow down my wrinkles! I'm also happy supporting a Canadian company. I highly recommend Totally Tallow!
Jane - we agree! We love it too! Thanks for supporting us - we appreciate the time you took to leave your review...
xo,
Rumina Naturals
WOW - 10/10 product for ECZEMA
My little girl suffered so badly with irritated skin. My friend told me about Totally Tallow and I'll be honest I was a bit hesitant...beef tallow!? But WOW. It worked fast and helped clear up her skin as we worked on her diet. UNBELIEVABLE. Thank you for making a clean, non-toxic product that actually works. I tell everyone!
Awesome to hear! We love knowing it has helped your family!!!